Face of the family: Bas van Mourik
At Dekker Chrysanten in Hensbroek we work with more than 170 professionals. With "Face of the Family", we portray one of these professionals every month. Based on various questions, we would like to introduce you to our colleagues and gain insight into the multiple functions within our family business. This month we asked our questions to Bas van Mourik, sales manager of Dekker Chrysanten. 

Colourful career!
From a young age, Bas could often be found among the chrysanthemums and Madibas with John and Linda van de Westeringh. He liked this very much and therefore decided to follow a secondary education in horticulture. During this education, he did an internship at Dekker Chrysanten, where he got the chance to work in several departments. Later, during his follow-up study at the HAS in 's Hertogenbosch, Bas also did a five-month internship at one of our locations in Tanzania.
Bas' enthusiasm and hard work during his studies and internships were noticed, because even before he graduated, he was asked to come and work at Dekker Chrysanten. He seized this opportunity with both hands and now, 15 years later, he still works at Dekker Chrysanten, where he still works with great pleasure and passion.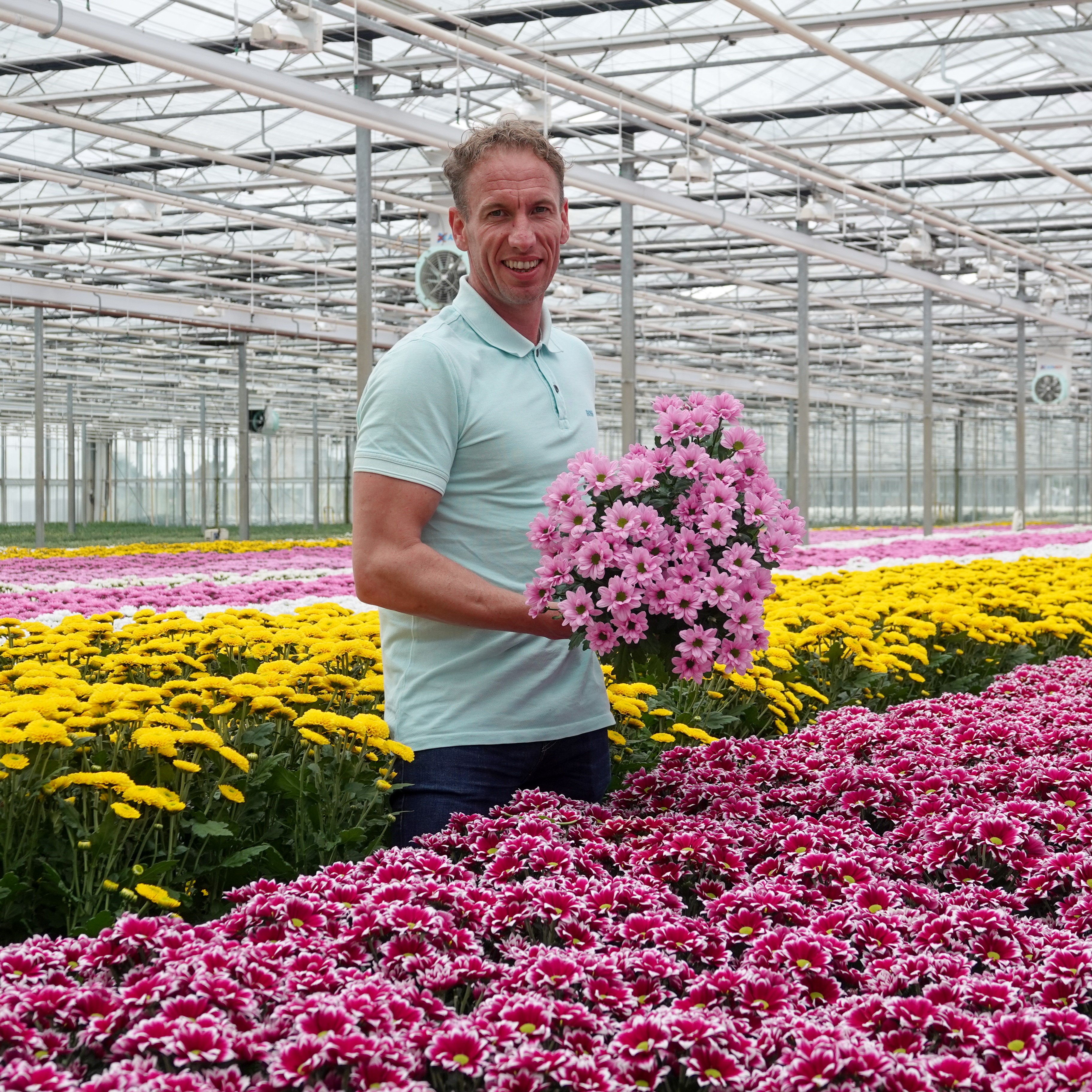 Bas is responsible for the commercial activities of Dekker Chrysanten in the Netherlands. He is part of a sales team with five colleagues. The focus is on making the right product-market combinations. The focus is on making the right product-market combinations. 'Know your customers, your varieties and the market'.
The ultimate goal is that the Dutch chrysanthemum grower sees Dekker Chrysanten as the partner to successfully market varieties.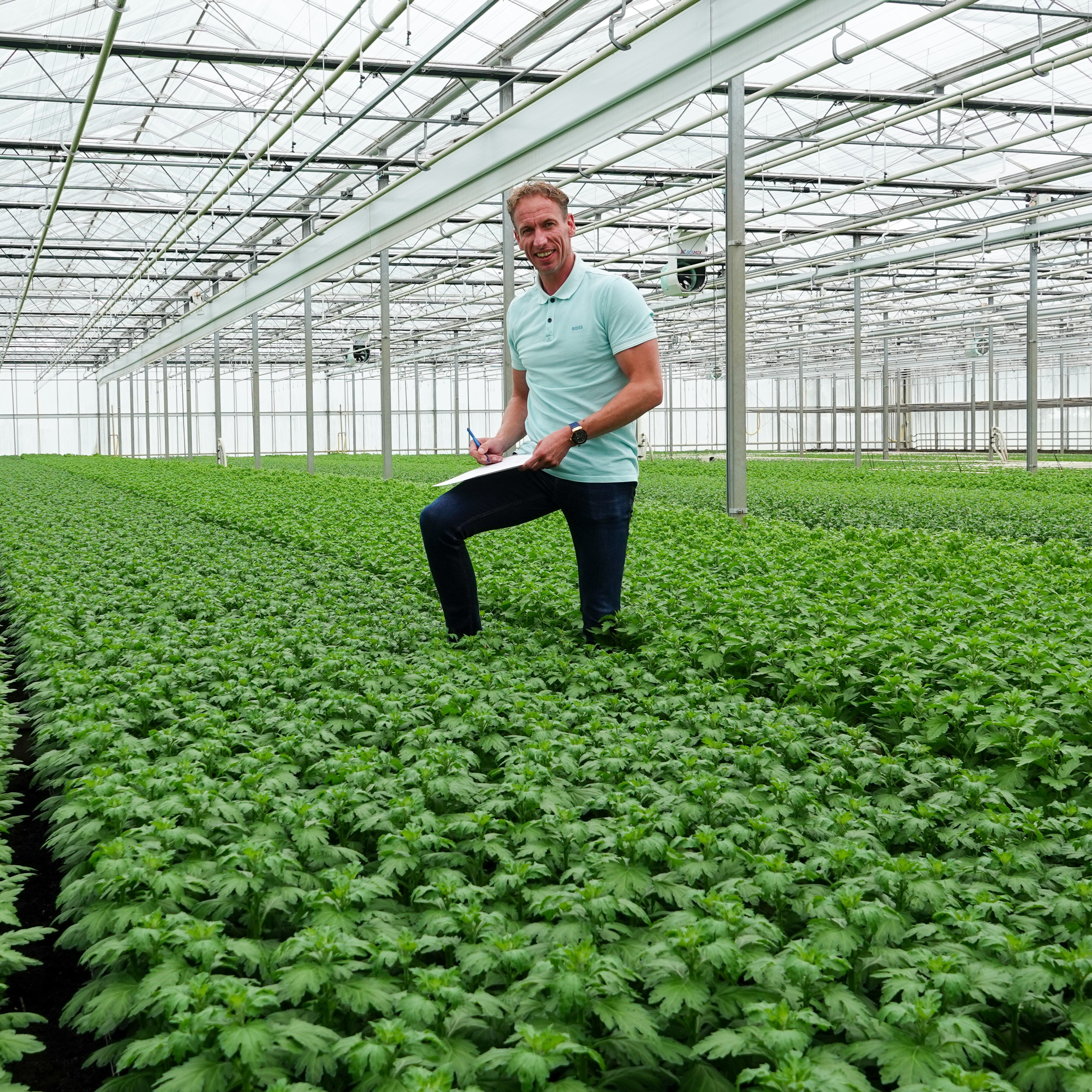 One of the special aspects of working at Dekker Chrysanten is that Bas finds the charms of a family business and the drive to keep developing and investing in the chrysanthemum product. It gives tremendous confidence to see how much the Dekker family invests in an effective breeding system. This requires a long-term vision to maintain the strong position of the (Dutch) chrysanthemum in the future.
Working in the Dutch chrysanthemum sector Bas describes with a big smile: 'Dynamic'. The challenge is to be aware of all aspects. What also makes Dekker Chrysanten interesting is on the one hand the specific branch in which we are active, but on the other hand the many specialisations. Breeding, propagating, marketing. Every aspect requires specific knowledge. This is one of our challenges for the future.
"The perfect variety does not exist, so the trick is to anticipate external conditions as well as possible. It is up to our grower to deal with this as best they can, while it is our responsibility to offer clear insight into the specific points of interest of each variety."
While the perfect variety does not exist, Bas does have some favourites. One of these is the Madiba® Tyolo family, not only because it is great to use in bouquets and arrangements, but because it excels in all areas. "For me, it's all about the total picture". Madiba® is a unique segment that I am also very proud of. We continue to grow incredibly fast with Madiba®, and together with the growers we are achieving great results. Madiba® Tyolo is one of the varieties with a very high reliability, from cutting to flowering each one becomes a beautiful product that fulfils brand promises. This gives an awful lot of energy! This is good for us, but also for our customer. That is the goal!
"Also, Altaj and Kennedy are two varieties I am immensely proud of. On every level, these varieties have and still require all the attention on multiple levels, but we have done everything to make them a success. I am mega proud of that!".

A close-knit family business with an innovative spirit
Bas experiences Dekker Chrysanten as a close-knit family business with short lines of communication. "The Dekker family takes good care of its employees and has a constant drive for innovation, especially when it comes to serving the market from breeding and investing heavily in that. I see it as an ongoing competition that we want to keep winning. Our growers are playing in the Champions League and that means everything has to be perfect to continue chrysanthemum cultivation on the current scale in the Netherlands. We can face enough innovations and challenges together in this.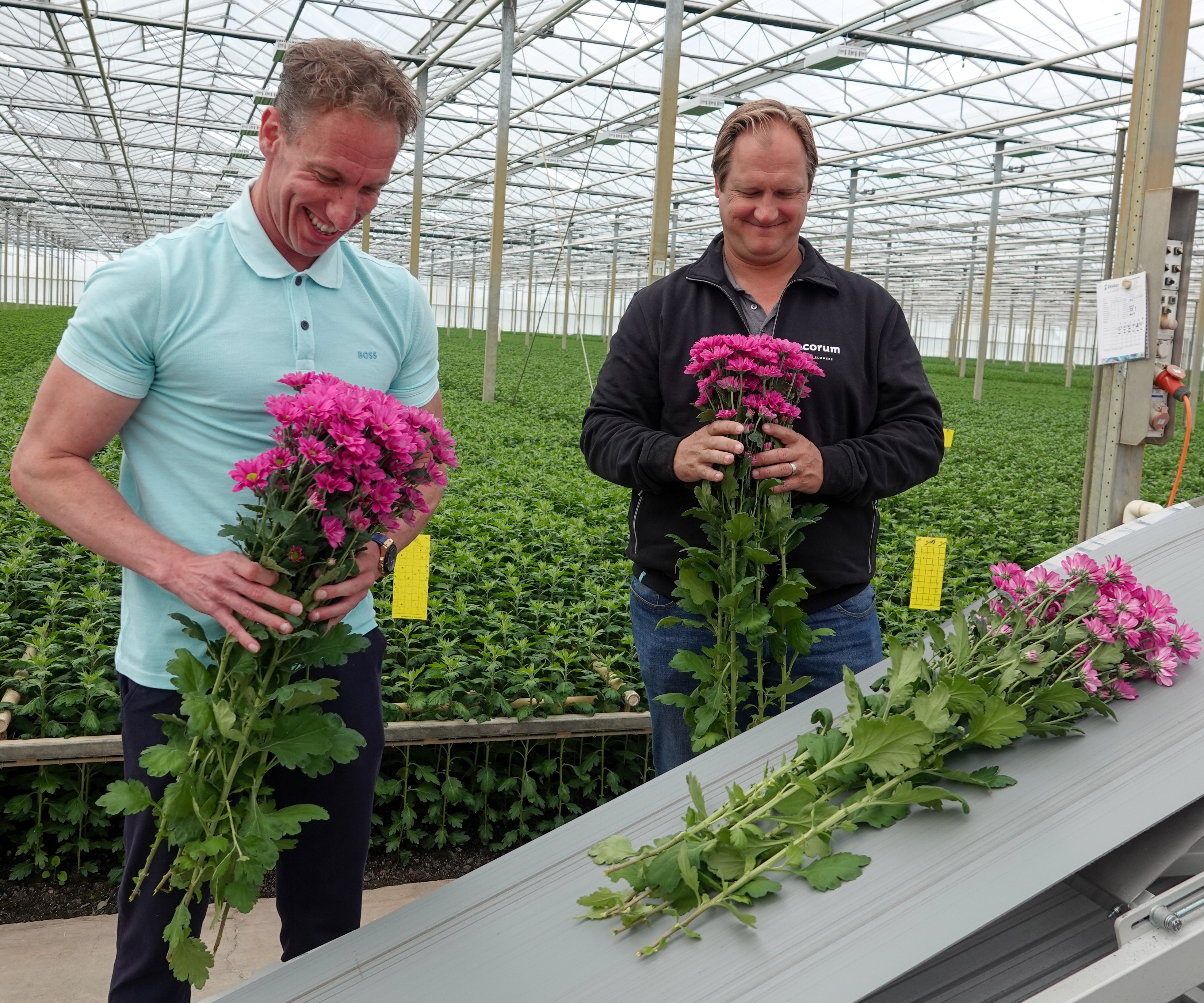 "The thing that makes my job the most enjoyable of all is when I step into a grower's greenhouse and everything is in perfect order from A to Z. I know I have done a great job. At that moment, I know that together we have done an excellent job. I am especially proud to work as Sales manager for a family business like Dekker Chrysanten!"

Back