Trade talk: Agora
Every month we use Trade Talk to highlight one of the trading parties that sell varieties of Dekker Chrysanten. We learn more about the company, the relationship with us as a breeder, and their experiences with one of the many chrysanthemum varieties Dekker has launched on the market.

This month we visited Agora. 




With a big smile and a firm handshake, we are welcomed by Klaas Meijer, chrysanthemum buyer at Agora. Every day he buys the chrysanthemums for twenty cash and carries. Santini, spray, disbud, and to a growing extent also the Madibas: every day, considerable numbers are prepared for transport to Belgium, France, Italy, and Eastern Europe. Especially for this edition of Trade Talk, we spoke with Klaas about his rich history within the global flower trade, his current role as chrysanthemum buyer of Agora, the beautiful family business that Agora is, and of course, his experience with the varieties of Dekker Chrysanten.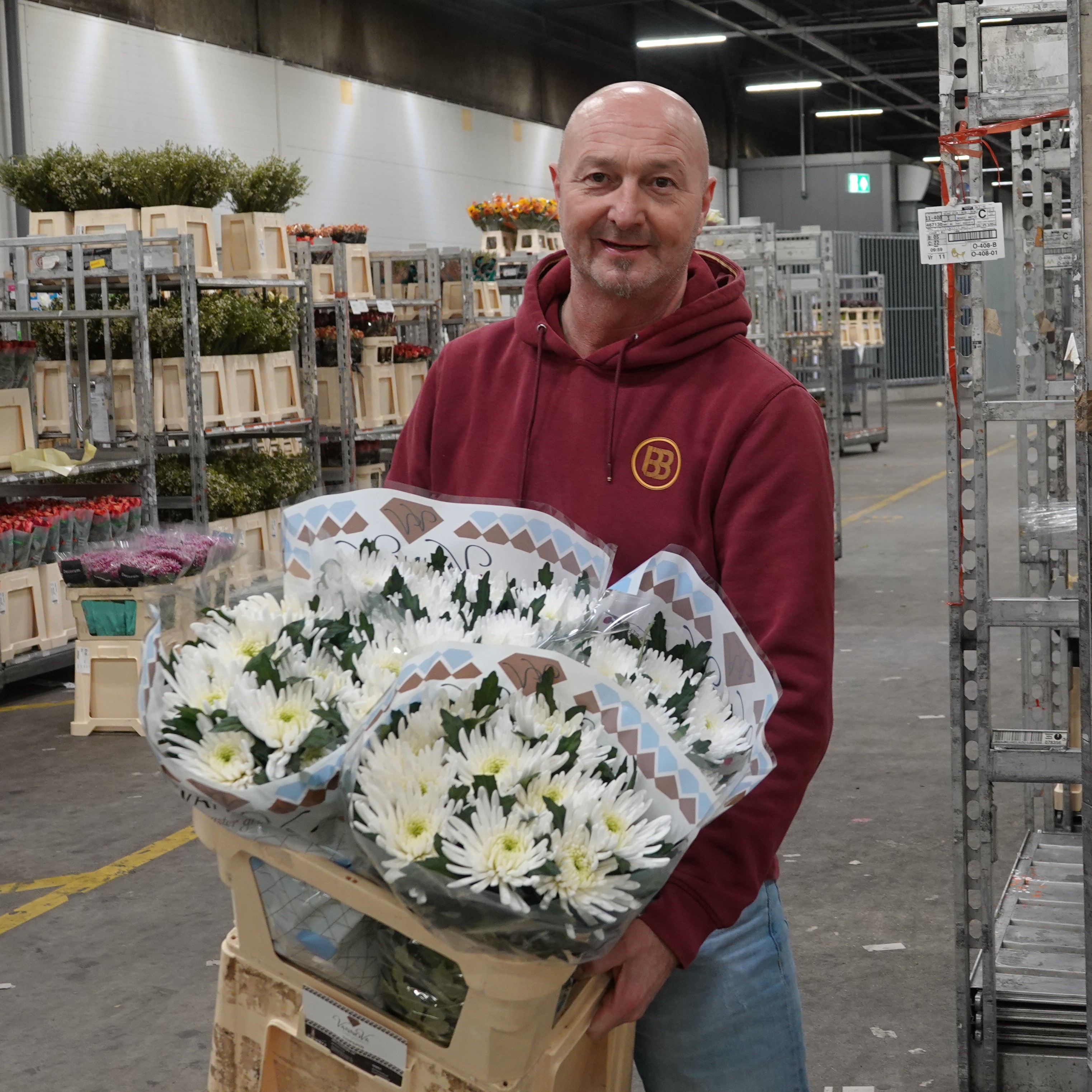 Klaas was born in Ouddorp, a village on the island of Goeree-Overflakkee. Every vacation, Klaas went to Roelofarendsveen in South Holland, where he came into contact with the flower trade at an early age. At the age of 17, he started working for the clock through his brother-in-law. The people, the product, and the world behind the flowers: Klaas quickly felt at home there.
Klaas came into contact with the buyers of wholesalers, line drivers, and other trading parties of the time. So it wasn't long before the first offer was made to him from one of these companies. For more than nine years, he learned all the intricacies of the trade until he made the step to his next experience: line driver in Germany. Although Klaas could put his passion for flowers to good use here, he decided to exchange the road network of our eastern neighbors for the Dutch flower auctions. Here he worked as a buyer for various export companies, eventually ending up at Agora in Aalsmeer.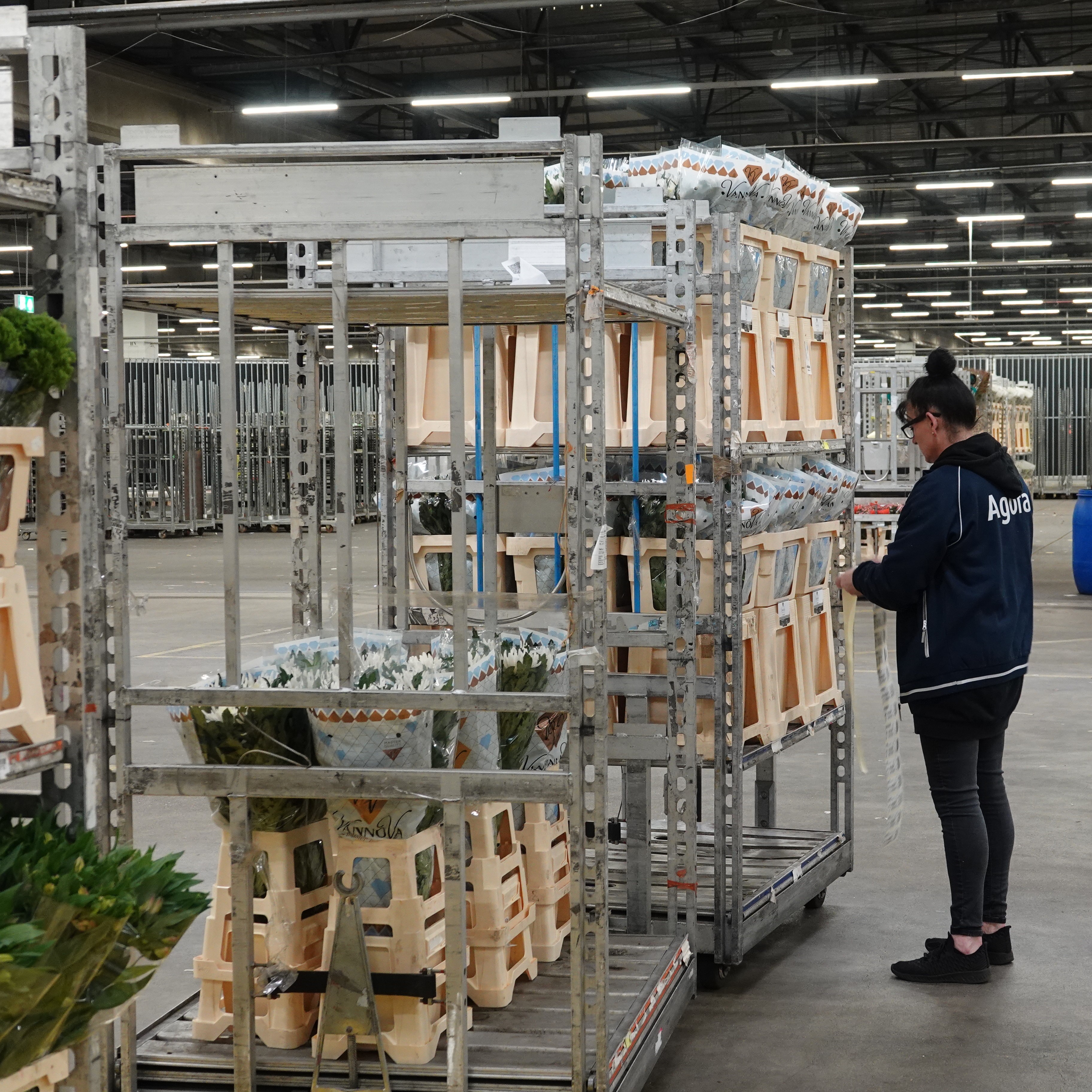 Agora was once founded by the Van Turnhout family. Starting with one Cash & Carry in Kontich, the family business quickly grew into a multinational wholesaler with activities in different countries. Not only did the number of branches grow, but also the size of the supply continued to increase over time. Where Marc and Gerd Van Turnhout-Nagels once started selling flowers, the range was gradually expanded with houseplants, garden plants, pottery, accessories, and all other conceivable necessities for the florist. Today, Agora is an established name indispensable in the Belgian, French, and Italian flower world, where quality, service, and unparalleled commitment are paramount.

Klaas has been working for the Belgian family business for more than 15 years but has only recently started working with chrysanthemums. He recently switched from the lilies to santini, spray, disbud, and Madibas, a step that brought many new things for Klaas. Klaas had to get used to it initially but decided to do everything in his power to get to know the world of chrysanthemums as well as he once knew it from the lilies. An essential element of the learning process involved visiting the Dutch chrysanthemum growers and breeders, which he still does frequently. This way, he stays informed of the developments within the market and gets to know the product better and better. That this is not without success is evident from the figures. Under Klaas' responsibility, chrysanthemum as a product group at Agora has increased in large numbers. So much so that the chrysanthemum at Agora is in the top 3 of most-sold cut flowers. "So you see that despite your 57 years, you are never too bad to learn!" – says Klaas.

When we ask Klaas about the relationship with Dekker Chrysanten, he immediately speaks of a close cooperation. The regular communication, visiting growers together, and offering help and insight is what Klaas appreciates about Dekker. This, together with excellent and reliable varieties, makes Klaas see the future of the collaboration between Agora and Dekker Chrysanten bright. Participation in Dekker Exclusive is also of added value to Klaas. Klaas is one of the first to gain experience with new spray chrysanthemums that come off the garden at Dekker. For example, Klaas has something unique to offer its customer, and Dekker Chrysanten gains feedback on the new varieties.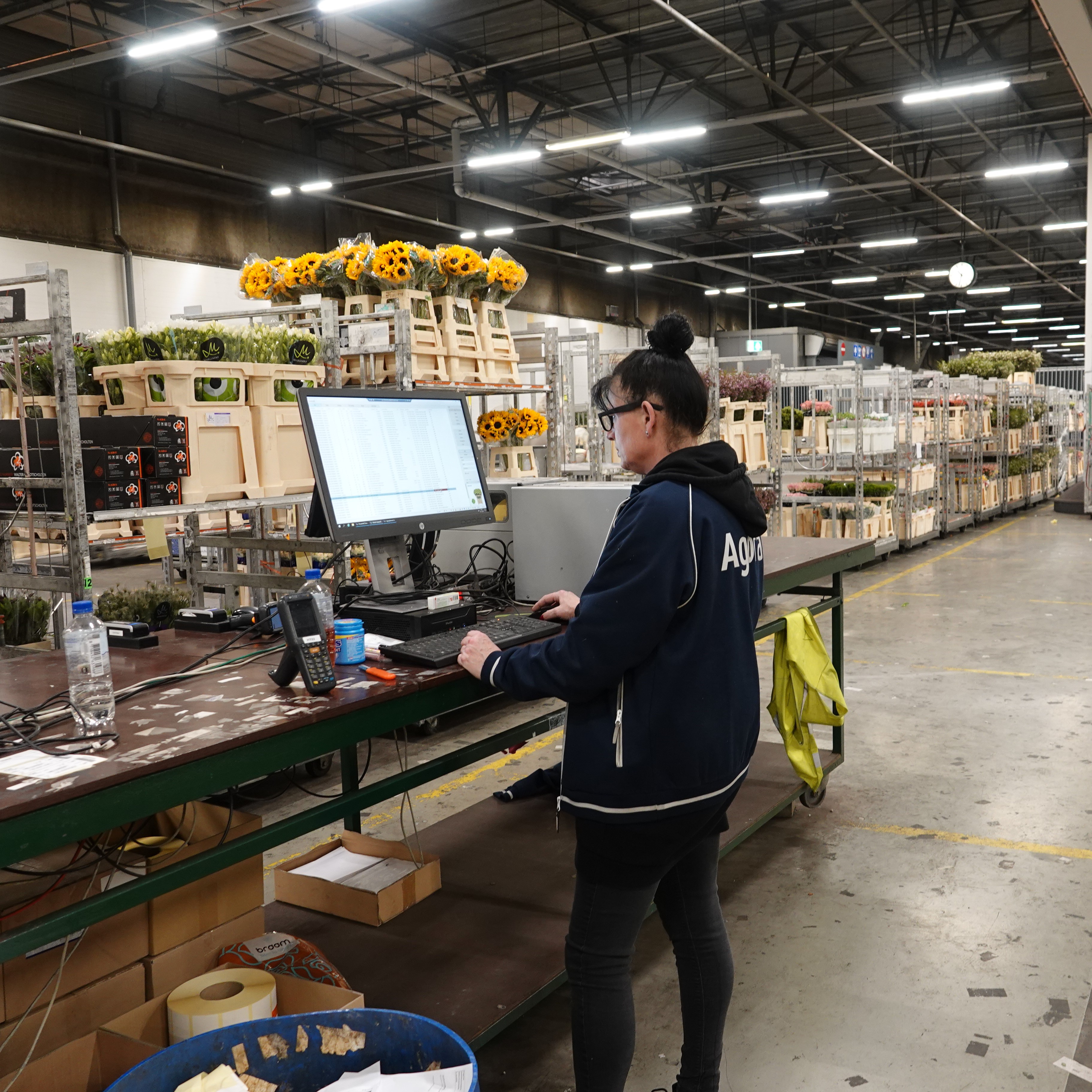 Anyone entering Agora's logistics processing area in Aalsmeer immediately realizes that things are serious at this Belgian family business. The newly bought flowers are directly distributed to the various branches using a state-of-the-art distribution system. For the size of the center, relatively few human hands are involved, and the following distribution expansion is already on the agenda. So it is clear that innovation is key within Agora!
Klaas is also a fan of innovation. Especially when it comes to chrysanthemums. According to Klaas, this is another match between him and Dekker Chrysanten. Thinking about the varieties of Dekker Chrysanten, for example, the Madiba package stands out for Klaas. Even though the French customer initially had no ears for this, Klaas continued to buy it. Because of the unique properties that characterize the product, Klaas believed in Madiba. And that he was right is evident as soon as we walk past the number of barrels of Madiba. Many Madiba varieties can be found on the trolleys destined for the Cash & Carries. Gradually, French florists also started to believe in Madiba's flower power.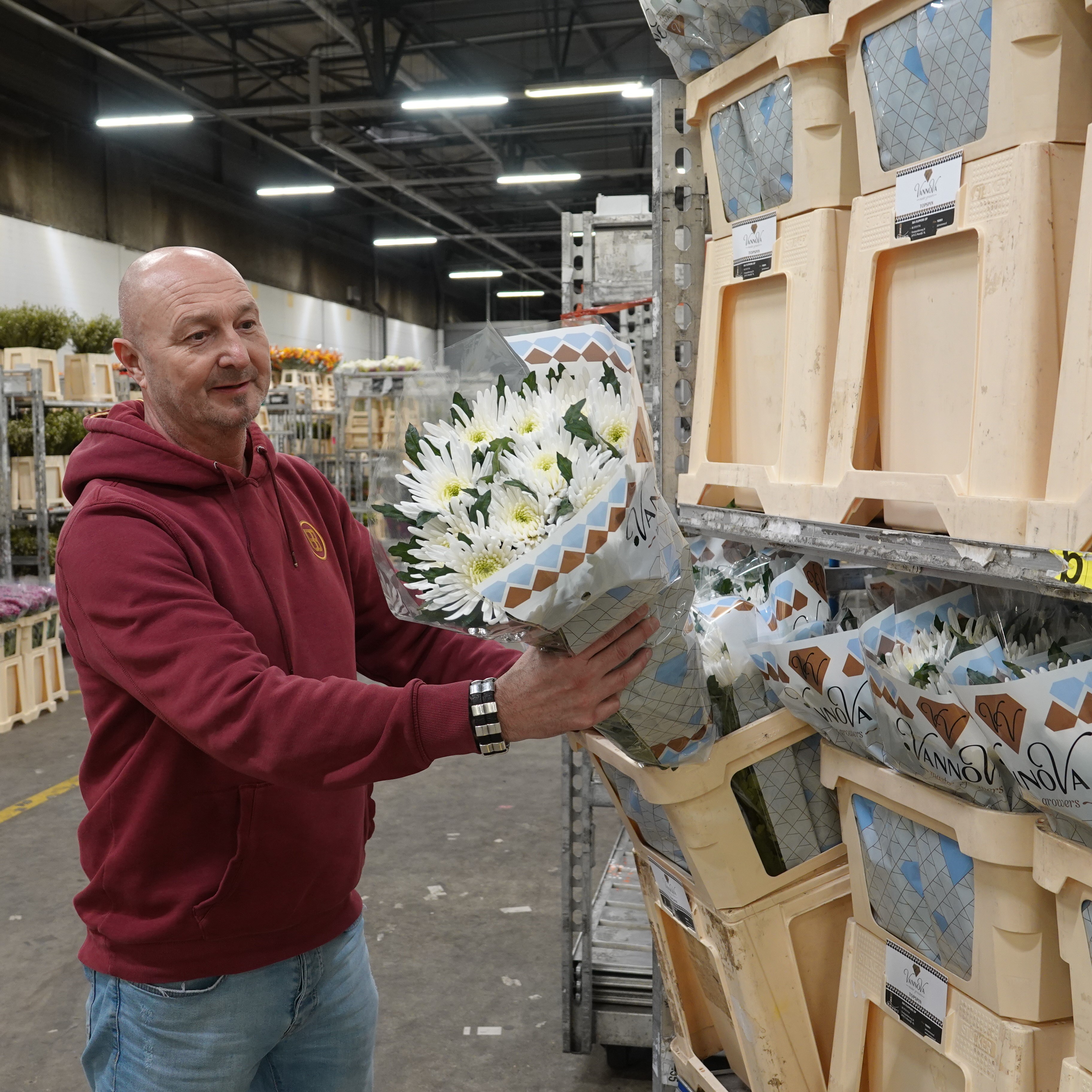 Another variety that Klaas is increasingly purchasing is Topspin. Especially the white colour makes it a variety Klaas likes to buy. But its long vase life and beautiful flower are also features that make Topspin such a popular variety. Klaas sees Topspin being sold everywhere, but sales to France have shown significant growth recently. That is hardly surprising with such a great variety and buyer!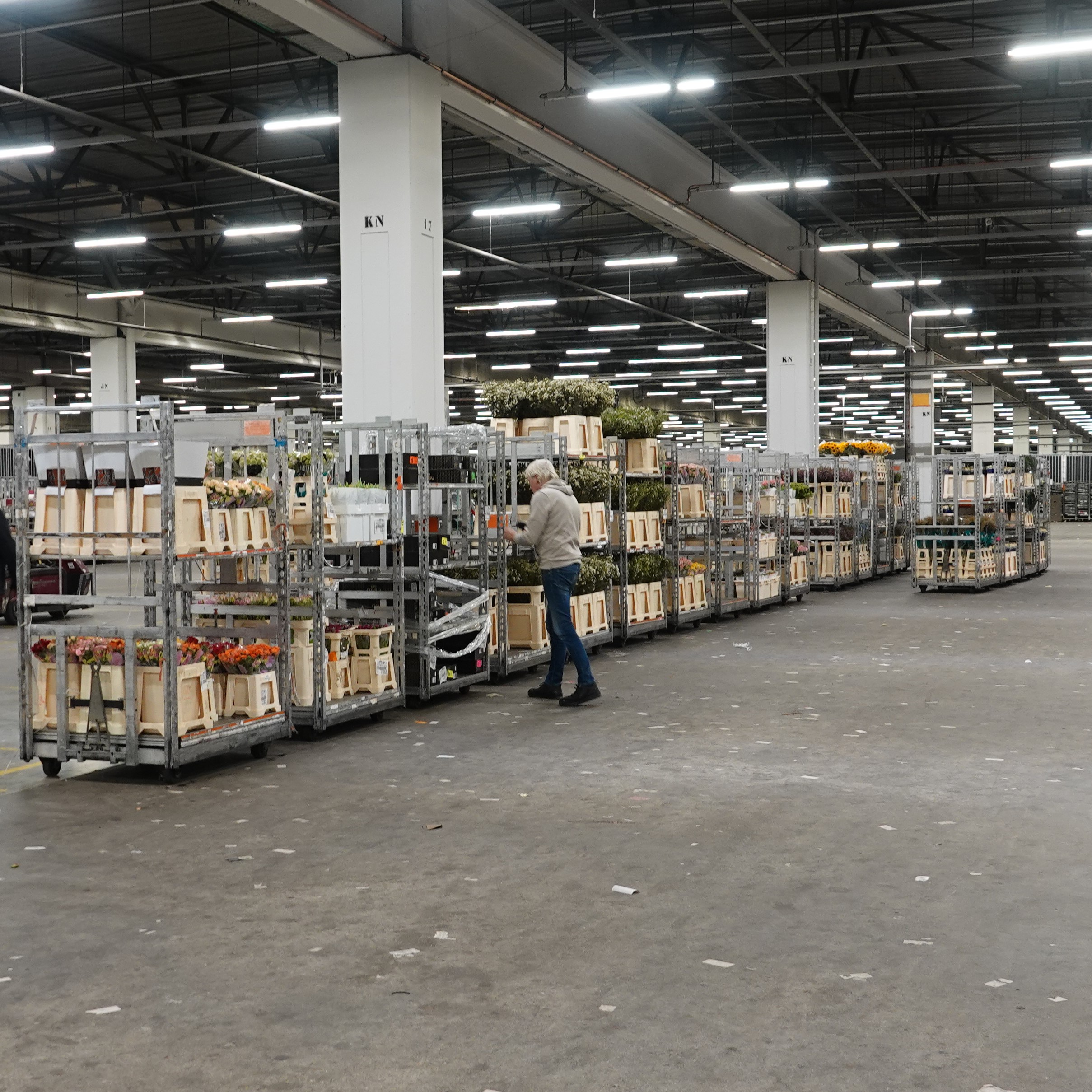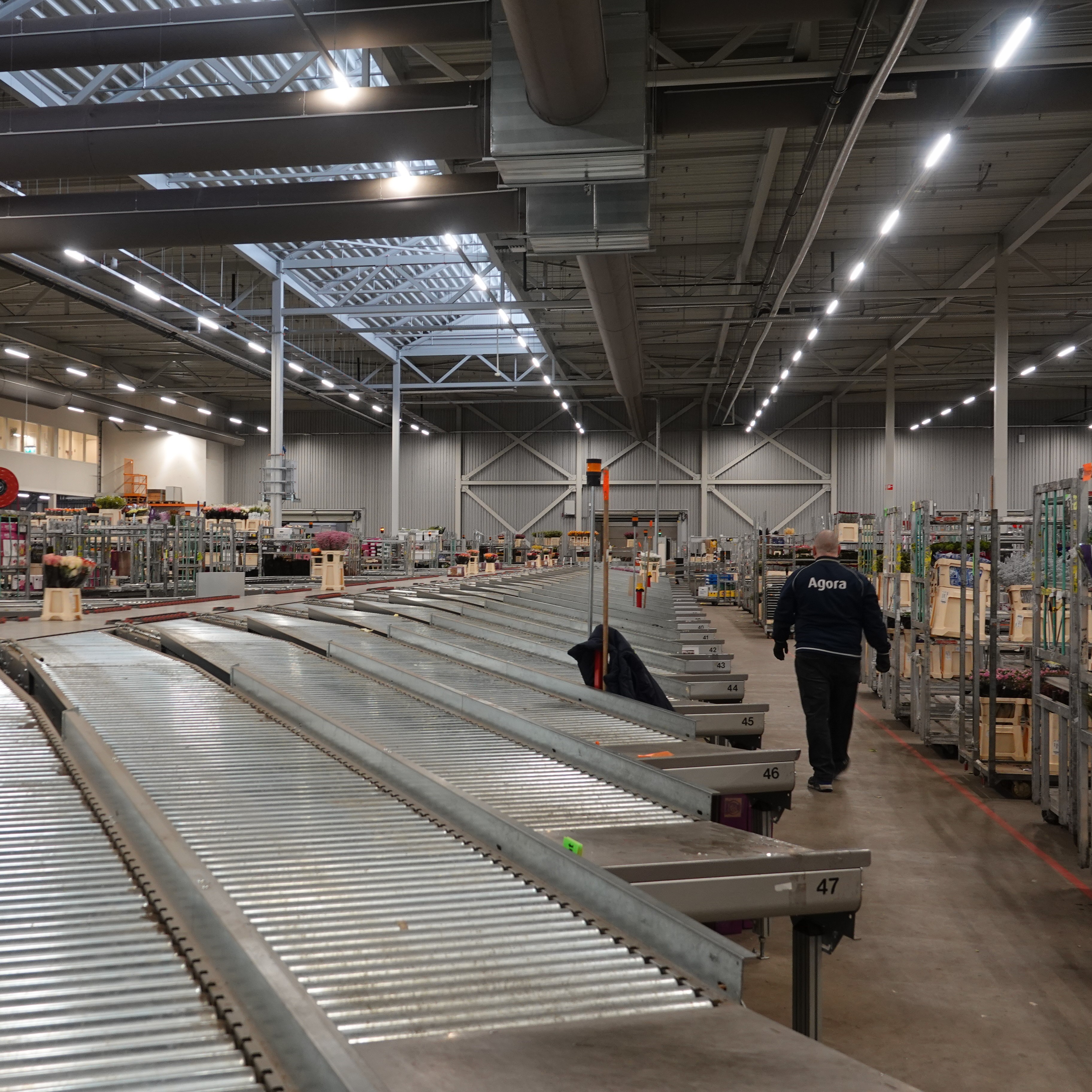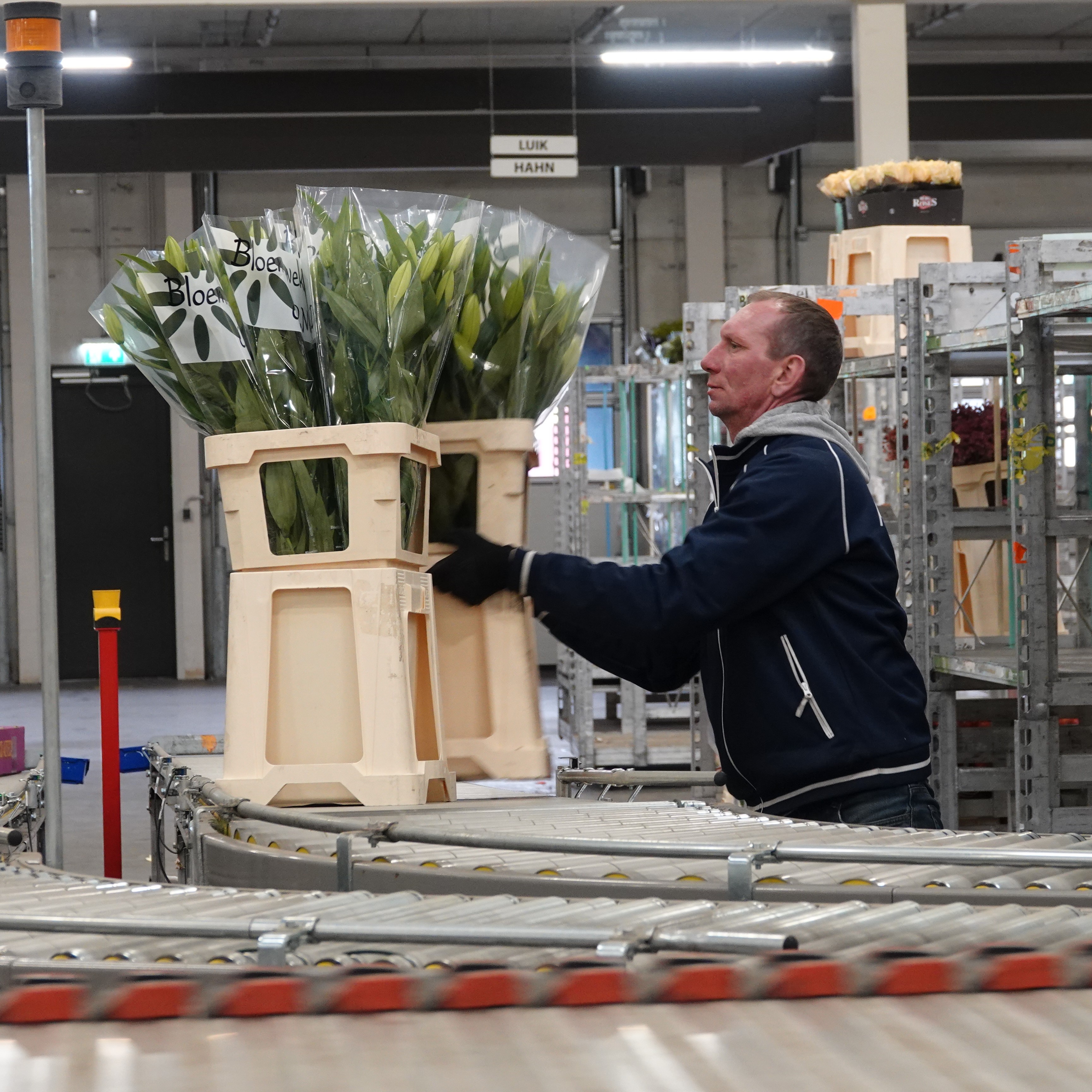 Back